We look forward to revealing the wonder
of Borneo's birds to you
With over 20 years experience, we specialise in expertly guided birding trips to the best localities in Sabah, Malaysian Borneo.
Our guides have an intimate knowledge of the habits and habitats of Bornean birds to ensure the best possible viewing opportunities
The emphasis of our trips is to see as wide a range of Bornean birds as possible - particularly the sought-after endemics - but we believe in quality observations rather than rushing from site to site. Birding in tropical forests is unpredictable and there are often periods of low bird activity, but patience and determination are usually rewarded. Pheasants, trogons, pittas and wren-babblers do not give themselves up easily, but a combination of stealth, awareness and a bit of good fortune often lead to unforgettable encounters. In some localities, we work closely with other lodge-based guides to access the places where target species are most likely.
Join like-minded people from all corners of the world
A typical day includes a very early wake-up, with breakfast before 6am, in order to make the most of the prime birding time: 6am to 9am. Most birds become less active as the day warms up, but deep-forest dwellers may still forage in their shady habitat, while nectivores and fruiteaters can be busy throughout the day. Midday is usually a time to rest up and enjoy a delicious lunch. Late afternoon is time to get out onto the trails or boats again, and we often undertake night excursions in search of owls, frogmouths and nightjars. Accommodation and meals are of the highest standards available in the best birding localities with friendly lodge staff and efficient transportation at all times. On our package tours we take a maximum of 8 birders to ensure that everyone's needs and interests can be met. You will join like-minded people from all corners of the world.​
Borneo is the world's third largest island and is home to an astonishing diversity of tropical life, including 688 bird species of which 59 are endemic, being found nowhere else.
Borneo is shared by the three nations of Malaysia, Indonesia and Brunei, with endemic species being concentrated in the Malaysian state of Sabah. Not only does Sabah have superb birds, it also has the best infrastructure and the most accessible conservation areas in Borneo. Our tours, therefore, concentrate on the finest birding habitats in Sabah.
Straddling the equator, the rainforests of Borneo are the oldest and most complex on Earth. More tree species occur in just a few hectares of Lowland Dipterocarp Forest than on the entire North American continent! There is an equally diverse range of invertebrates, frogs, reptiles and mammals so the visiting birder will see a variety of extraordinary wildlife in addition to birds.
In contrast to the hot lowlands, the majestic Mount Kinabalu and adjacent Crocker Range are cloaked in cool cloud forests that support a completely different avifauna including numerous endemic bird species that are common and easily seen. Coastal areas and offshore islands support their own range of birds and time spent in these habitats will add significantly to the species counted in forests.
In recent years, Sabah has attracted growing numbers of international birdwatchers who come to see, observe and photograph the amazing variety of both colourful and cryptic species. Many birders travel with international tour operators, but we have been running successful ecotours in Sabah for 20 years with our local guides, and operate the internationally-recognised Sukau Rainforest Lodge on the Kinabatangan River.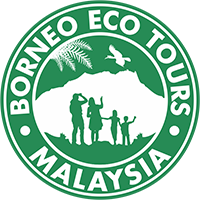 Travel with Borneo
Eco Tours
Borneo Eco Tours is a local tour operator based in Kota Kinabalu and Sandakan, Sabah, North Borneo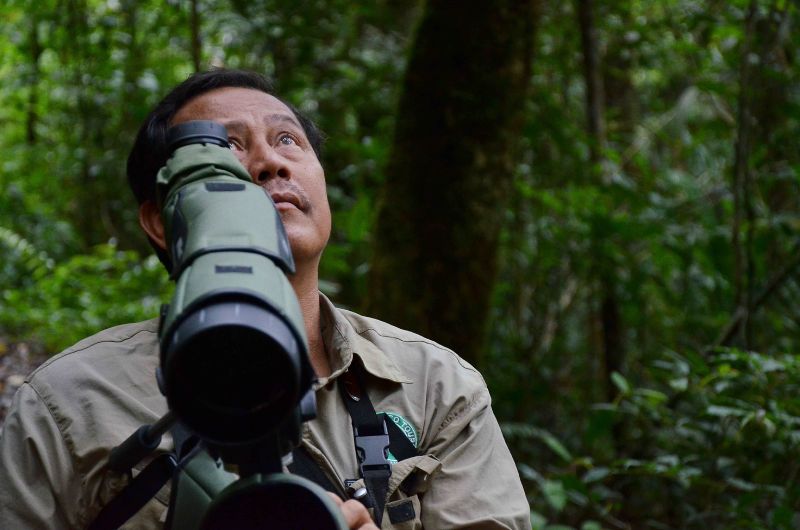 We look forward to revealing the wonder of Borneo's birds to you. Join one of our exciting package tours, or let us know your individual needs (and most desired birds) and we will put together a unique customised tour for you